BACKGROUND
| | |
| --- | --- |
| Terroir | |
A maritime influence providing an ideal climate for winegrowing
Only vines growing on limestone slopes in the Charente-Maritme and Charente departments, as well as a few communes in the Dordogne, are entitled to the Pineau des Charentes appellation contrôlée.
The French word terroir cannot be translated directly into English. This complex word encompasses the notions of both climate and soil.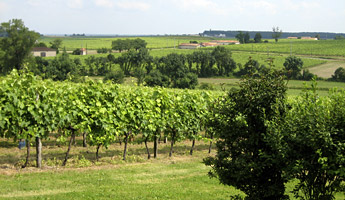 Climate
The Charentes region has a maritime climate. The winters are fairly mild, although frost can occur as late as May. The area has a relatively high rainfall: 800-1,000 mm per year, generally spread over a period of 130 to 150 days. This is, however, complemented by plentiful sunshine late into the summer. The warm, but not overly warm, growing season and just the right amount of humidity are ideal for ripening the grapes used to make both Pineau des Charentes and Cognac.

Soil
While the soil is predominantly clay-limestone, there are a variety of other types (depending on topography and altitude). In fact, these diverse soils give winegrowers an opportunity to pick the best grapes in each vintage.