TRADE ASSOCIATION
| | |
| --- | --- |
| Confrérie du Franc Pineau | |
The Principauté du Franc Pineau vinous brotherhood was created in 1948 by the Duke and Duchess of La Rochefoucauld, and has included such prestigious members as André Maurois, Francis Carco, and Curnonsky, the "Prince of Gastronomy". The Principauté soon gained a worldwide reputation by hosting lavish festivals at the Château de la Rochefoucauld.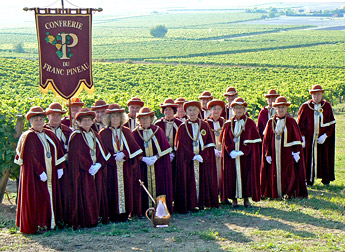 The brotherhood, now known as the Confrerie du Franc Pineau, is part of the Comité National du Pineau des Charentes. Their aim is to promote Pineau, via ambassadors (called Ministres de la Cour) at special events in France and abroad, often in conjunction with other brotherhoods.
Once inducted into the brotherhood, and having sworn eternal allegiance, new members (or chevaliers), are entrusted with spreading the good word of Pineau des Charentes far and wide.

More than 2,000 personalities from the worlds of art, entertainment, food, and the media have been inducted into the Confrérie.