ENJOYING PINEAU
| | |
| --- | --- |
| Serving suggestions | |
Pineau des Charentes, gold and ruby delights
Whether enjoyed with a starter or dessert, Pineau des Charentes is best served cold (8-10°C), in a tulip-shaped glass, to appreciate the wine's full range of flavours and aromas.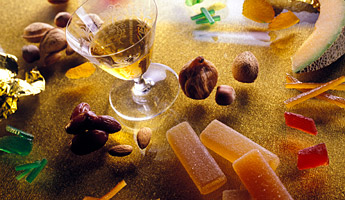 Young Pineau makes an ideal aperitif, whereas a Vieux or Très Vieux Pineau is a perfect way to round off your meal.
Pineau is also great in cocktails, blended with fruit juice, tonic water and a few mint leaves.
A Vieux or Très Vieux white Pineau goes exceptionally well with foie gras, blue cheese, and goat's cheese. Chocolate dishes are especially enhanced by a Vieux or Très Vieux rosé. Rosé or red Pineau is a treat with strawberries. Melon is also a much appreciated match with young white Pineau.
Versatile Pineau de Charentes goes beautifully with a great many delicious recipes.
Storing Pineau Pineau des Charentes is not a wine that benefits from ageing. However leaving it for some time in your cellar will do no harm, provided you store the bottle upright.Pineau keeps well in the fridge (corked and upright) once opened, although it is better to let the wine warm up a few degrees before serving.