BACKGROUND
| | |
| --- | --- |
| Making Pineau | |
Pineau des Charentes – the best of nature and skilled winemaking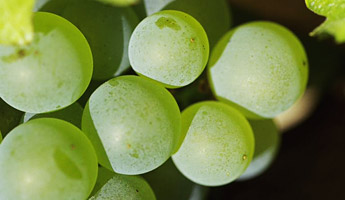 Pineau des Charentes is a unique sweet fortified wine from a single estate, produced from grapes used to make both grape juice and Cognac.
Pineau is thus entirely from the same terroir. It is made by winegrowers who are not only skilled viticulturists, but also adept at producing Cognac and the art of mixing it with unfermented grape juice. The resulting wine combines aromatic complexity, smoothness, and freshness.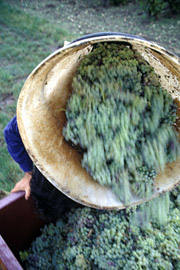 Harvest
The grape harvest lasts one month, beginning in late September.

Pressing
The white grapes are pressed as soon as they arrive in the winery, whereas the red wine grapes undergo several hours of maceration to achieve the desired colour.

Blending
After pressing, the grape juice is blended with Cognac (minimum 60% alcohol by volume), which prevents fermentation. The Pineau is then aged for at least a year.
The definitive alcohol content varies from 16 to 22 %.

Ageing
Pineau des Charentes is exclusively aged in oak barrels.
White Pineau ages for at least 18 months, including 12 in barrel.
Red and rosé Pineau are aged for 12 months, including eight in oak.
This ageing is a very important part of the winemaking process, and gives Pineau des Charentes its characteristic vanilla and nutty flavour.
Pineau Vieux and Très Vieux are aged for five and ten years respectively.
Bottling
Regulations require Pineau des Charentes to be bottled in the region of production.